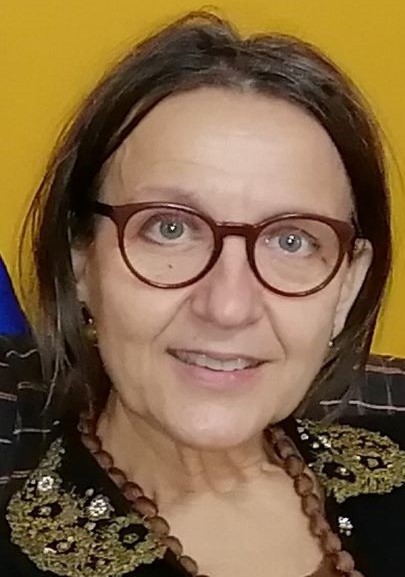 Name: CHRYSOULA TSIOU
Current Position: Professor    
Code ΑPELLA: 19638
Scientific Domain: Adult nursing and perioperative nursing
Sector: Medical-Surgical Nursing
Αdministrative positions: (1) Director of MSc "Neurological Disorders – Evidence Based Practice", Nursing Department, University of West Attica, and (2) Director of Sector "Medical-Surgical Nursing, Nursing Department, University of West Attica
Laboratory: Emergency Nursing: Clinical Laboratory in the NHS Hospitals
Tel: +0302105385614
Email: ctsiou@uniwa.gr
Research Gate id: https://www.researchgate.net/profile/Chrysoula-Tsiou-2
Google Scholar Profile:https://scholar.google.com/citations?user=kKu8HboAAAAJ&hl=el&oi=ao
Orcid ID: https://orcid.org/0000-0003-1243-7069
Pubmed: https://pubmed.ncbi.nlm.nih.gov/?term=tsiou
Web of Science: Researcher ID ABD-3381-2020https://publons.com/researcher/4007454/chrysoula-tsiou/
Scopus Author Identifier: 23020314900https://www.scopus.com/authid/detail.uri?authorId=23020314900   
Education: PhD degree in the field "Investigation of the problem of noise pollution in the operating rooms of Greek hospitals", Nursing Department, National and Kapodistrian University of Athens (1999), Bachelor Degree in Nursing, Nursing Department, National and Kapodistrian University of Athens (1989), Diploma of Visiting Nurse, at the former Higher School of Nurse and Visiting Nurse, Hellenic Red Cross (1982)
Research interests: Operating rooms, Adult Nursing, hospital environment, Public Health, Nursing Education, History and ethnography of health.
Academic appointments: 20 years
Professional experience: 20 years clinical experience as a nurse/senior nurse in the public sector: Emergency Department, Intensive Care Unit, Medical-Surgical Wards, Operating Room and Head Nurse Department of Operating Room and then of Nursing Departments.
Courses Taught
Undergraduate Courses: Emergency Nursing, Perioperative Nursing, Neuroscience Nursing,
Postgraduate Courses: Neuroscience Nursing, Research Protocol and research methods, Health and noise pollution, etc.
Other information: She has presented a significant number of projects at conferences, has served numerous times in scientific and organizational conference committees and in scientific committees of nursing scientific journals. She acts as a reviewer in international scientific journals mainly in the Journal "Noise and Health". She has multiannual administrative works in a public hospital.
Representative publications
Tsiou C. Εfthymiatos G., Katostaras Th. Noise in the operating rooms of Greek hospitals. The Journal of the Acoustical Society of America, 2008; 123 (2):757–765 https://doi.org/10.1121/1.2821972
Τsiou C. Traditional healing in Likorrahi in the early 20th century. Journal of Advanced Nursing, 2001; 36 (2): 274-281 https://doi.org/10.1046/j.1365-2648.2001.01969.x
Tsiou C., Efthymiatos D.,Theodossopoulou E., Notis P., Kiriakou K. Noise sources and levels in the Evgenidion Hospital intensive care unit. Int Care Med 1998; 24: 845-847. https://doi.org/10.1007/s001340050676
Demeneopoulou S., Mantzorou, M., Mandysova P., Margari M., Dokoutsidou E., Tsiligianni E., Tsiou C., Adamakidou, T. Translation and Validation of "Brief Bedside Dysphagia Screening Test" in a Greek Sample of Neurological Patients. OBM Geriatrics 2021; 5 (2), doi:10.21926/obm.geriatr.2102165
Laopoulou E., Papagiorgis P., Chrysovitsanou C., Tsiou C., et all. Nurses' Knowledge about perioperative care of neurological patiens. J Per Pract 2018; 29 (4): 87-93. https://doi.org/10.1177/1750458918788984
The full CV can be found here.